I think I'll let the pictures do most of the talking, and I'll add the short recaps I wrote while up there. Enjoy.
Day 1-Sat
We survived the 5 1/2 hour drive up (it should have been 4 hours, but there was an accident which caused a lot of traffic), and arrived at the vacation house in Denmark around 4pm. The house is lovely with windows from the floor to the ceiling. We went to the beach, but couldn't swim since it was so windy and the waves were huge. We walked around the small town (Saltrum) a bit, and then headed home to watch a little TV. I have my own room, on the end of the house near the living room, while the other 3 rooms are at the other end. Nice and private. There's a cool loft bedroom with TV and PlayStation for L, the 9 year old. I'm still trying to figure out the monetary conversion here (something like 7 to 1,
in favor of the euro), but I still can't fathom paying 23 anything for 2 scoops of ice cream. lol. Oh, there's no internet here, so I'm writing daily recaps in word, and I will put them together and post them when I get home.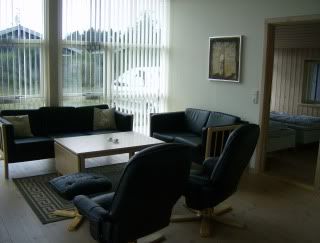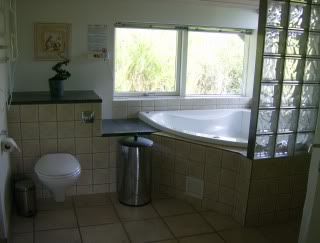 Day 2-Sun
Today the weather was almost perfect. It would have been perfect if not for the wind, which was still better than yesterday. I was woken up at 7:30 by the kids, who somehow where full of energy despite reeking havoc until 12:30 in the morning. Wonders. We spent a few hours wandering around Lokken (the biggest near-by city), where we saw people making candy... which was a very long and painstaking process... but the end result was yummy and very artistic. We then took a brief walk to the ocean. Then we headed home, where I laid out and read for an hour or so, and the kids took a nap before we headed to the beach once more. We walked bare-foot along the shore, and the water was surprisingly warmer than I expected, in fact we may go swimming sometime despite the wind. We came home for dinner, and the kids hung out in my room attempting to play Pac-Man on my laptop. Then at bedtime the little one asked if I would read her her bedtime story- this is the first time she's ever asked me, and is to be interpreted as something of an honor. We read for half an hour, and it went well, despite her short-attention span and seemingly unending energy. I also fell in love with some goofy pants, but we will see if I break down and buy them... I mean, their name does translate to "Harem Pants".. but they're cute.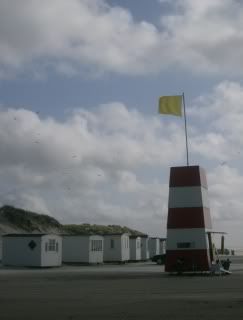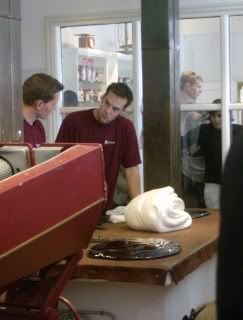 Day 3-Mon
It rained almost all day today, so we planned to go to the aquarium. However, after driving half an hour there, the line was ridiculously long, and there was no way the kids were willing to wait an hour in the rain. So plan B. We visited a candle factory and L got to hand dip his own candle, which turned out really nice.
Then we stopped by an art gallery, and the little one (S) got a cute little ceramic piggy bank. We then picked up some fresh fish and headed home. I napped a little and we played games indoors (monopoly, guess who, kids Yatzee and so on). After dinner the kids watched Madagascar, and I took a long soak in the jacuzzi tub.
Very relaxing. Hopefully the weather improves tomorrow.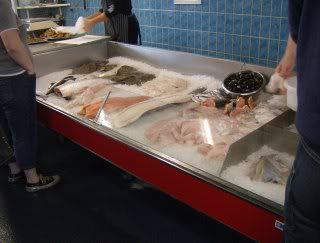 Day 4-Tues
The weather was perfect today, so we spent the day outside. We visited an old lighthouse, which is being swallowed but he dunes. The door is covered, but it has been broken down enough to squeeze through, so of course I had to go in. The stairs were missing railing in some places, but I made it to the top and (despite a fear of heights) got some pretty amazing pictures. We stayed and played in the dunes a little too. After, we visited a museum about the lighthouse, and a history of this particular part of Denmark. We had lunch at the beach, and spent the afternoon playing miniature golf. Nearby on a stage setting up for an evening concert, they performed the sound check by playing a Tracy Chapman CD. In the evening we stopped by the beach once more, and walked along the shore and collected shells/rocks.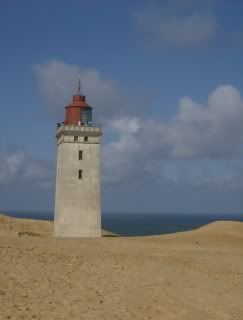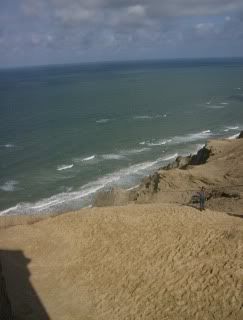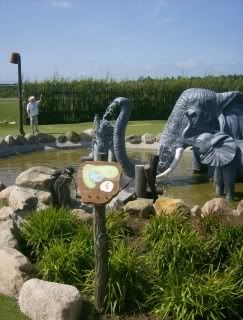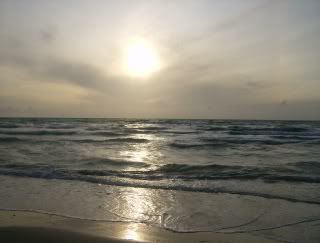 Day 5-Wed
Today we drove to the northern most point in Denmark, which also happens to be where the east and north sea meet. Of course we took pictures with one foot in the north sea, and one in the east sea. Much fun! After, we visited a nearby city and then played in some of the biggest Dunes in Denmark.We also visited a cute little church, where we had to climb tiny little steps to get to the top.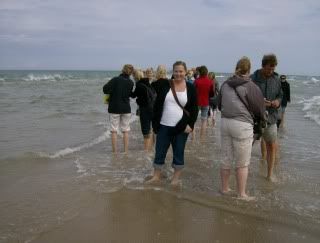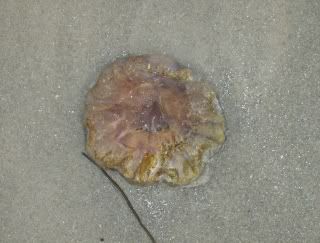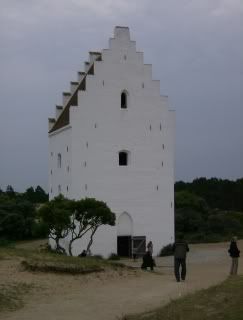 Day 6-Thurs
Today we got up early and went to the aquarium. We saw sunfish, seals, and lots of other cool creatures. After we went to the Barracks Museum on the coast, home to 54 barracks built by the Germans during ww2. (over 7,000 in total were built in Denmark during the German occupation). It rained, we bought fresh fish and came home.
Day 7-Fri
Last night was a big storm, I was awoken a few times by the pounding of the rain and wind. We all slept a bit later this morning. The weather was o.k. today, windy but with hardly any rain. We visited a candle factory in Vra today, and I bought a few candles. Then we went to downtown Lokken to shop and walk around. I bought a cute beige skirt, and the harem or Punjabi yoga pants I have been lusting over. They are sooooo comfy, I must learn to make them. :) I also got some postcards. We spent the rest of the day relaxing, packing and cleaning the house to leave early tomorrow morning.