Today we went to the little one's Kindergarten recital, which opened with a song by the whole class, and continued with group performances by the older children who are "graduating" and will be attending the 1st grade in the fall. (Here Kindergarten is attended for 2 to 3 years, a bit like a pre-school and kindergarten together). Now, I was expecting some cute"Itsy, Bitsy Spider" and "Row, Row, Row your boat" stuff, but this recital was hip, if not a bit more mature than I had anticipated (don't get me wrong, it was entertaining, but quite unexpected.)
The opening song. Cute kids, and all.
So, the first song starts out sweet enough, with a group of little ones dancing to something to the gist of "You are my star," while twirling stars on batons and all that jazz. The next song picks things up a notch with "Ugo and the Girls" lip-syncing and dancing to some German hit. Open on a boy sitting facing the crowd with dark shades and a flashy mic, with a girl on each side in a short (strapless, Hawaiian print) pink dress, matching sunglasses and necklaces. The girls dance around him the whole song, ending by each throwing a leg up on his chair. A bit much? Perhaps, but not quite enough for my to get my camera back out for, but the next song motivated me and I didn't put it away again. Yes, I've got proof of the story I tell. Following to the next song... "Die Perry's" (that's The Perry's for all you non-German speakers, not a death prompt) singing "I kissed a Girl." No joke. Complete with black leggings, Katy Perry Tank tops, matching hats and face glitter and make-up. Wow, luckily at that age no one really understands the words, but they know the title, so I still think it's pushing it. What next? The 3 year-olds performing a Diapered Caberet? Just saying...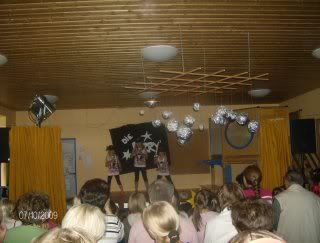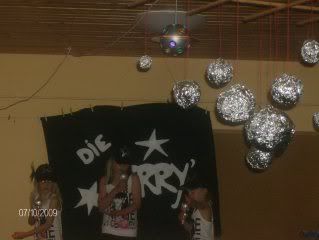 yeah, these are 5 and 6 year olds.
Next song is 3 boys, performing the German/Hip Hop version of "Forever Young" (not kidding, it's "Fuer Immer Jung" the translation is easy). This was frankly adorable, with one boy "rapping" and the other "singing" the slow chorus, and one keeping beat on the "drums," but I caught at least 6 curse words, and I'm not a native speaker, so there couls have been more. Isn't that something the sound guy should've caught? Have they never heard of the "Clean Version" of a recording. Shessh. And these were German curse words, not English, so all the kiddies understood them. Yep. Now I have a somewhat dirty mouth, and kids are bound to hear stufft, I just expected it to not be from a song in an organized recital. lol.
Here's pics of the cool guys though: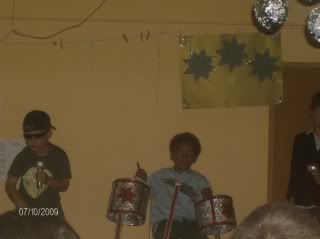 The last group "The Snuffkins" were dressed as bunnies (or a similar cuddly animal) and accompanied by their stuffed animals while singing "I love you" ("Ich hab dich lieb"). Nothing wrong here, sooooo adorable, and maybe only slightly sickening. lol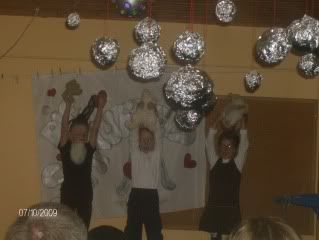 All in all, I had fun and it was soooo entertaining, but I just don't think it would fly in the states. But hey, maybe if our recitals were more like this, more people would attend (the mayor's wife attended, and she doesn't have a kindergartener... how's that for attendance and entertainment?)
Last shot of the great kiddos.